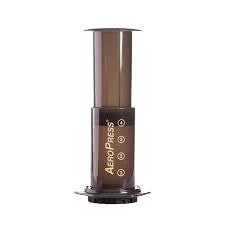 Aeropress
Regular price $50.00 $45.00 Sale
All hail the AeroPress.
Coffee and espresso maker (includes 350 paper filters)
The AeroPress uses the ideal water temperature and gentle air pressure. Brewing yields rich flavour with lower acidity and without bitterness.
Total immersion brewing results in uniform extraction of the ultimate in full coffee flavour.
Micro filtered for grit free coffee – unlike other press-type coffee makers.
It takes under two minutes to use, making it the perfect addition to a busy schedule!